ATALIAN GLOBAL SERVICES IN COVERAGE IN MYANMAR
In Myanmar, ATALIAN Global Services is headquartered in Yangon and has country-wide operations.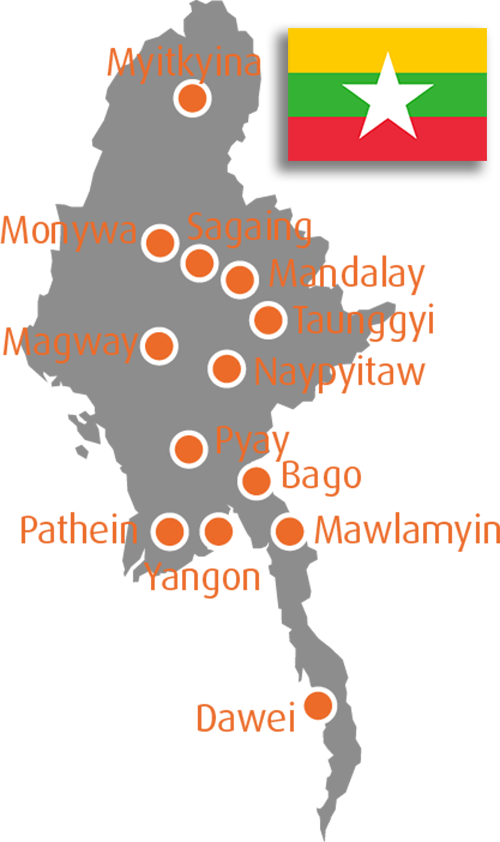 ATALIAN GLOBAL SERVICES IN THE WORLD
ATALIAN Global Services has progressively expanded at an international level and is now present in more than 33 countries across Europe, South-East Asia, North America and Africa. In France, ATALIAN relies upon a network of more than 100 local agencies and close to 80 agencies in the world.

ATALIAN's coverage in Europe: Belgium, Bosnia, Bulgaria, Croatia, Czech Republic, France, Hungary, Kazakhstan, Luxembourg, the Netherlands, Poland, Romania, Russia, Slovakia, Serbia, Turkey and the United Kingdom
ATALIAN's coverage in the USA: Arkansas, Connecticut, Georgia, Kentucky, Massachusetts,  Minnesota,  Missouri, New Jersey, New York, North Carolina, Ohio, Pennsylvania, Texas
ATALIAN's coverage in Asia: Cambodia, Indonesia, Malaysia, Myanmar, Philippines, Thailand, Vietnam and Singapore
ATALIAN's coverage in Africa and the Middle East: Ivory Coast, Mauritius, Morocco and Lebanon